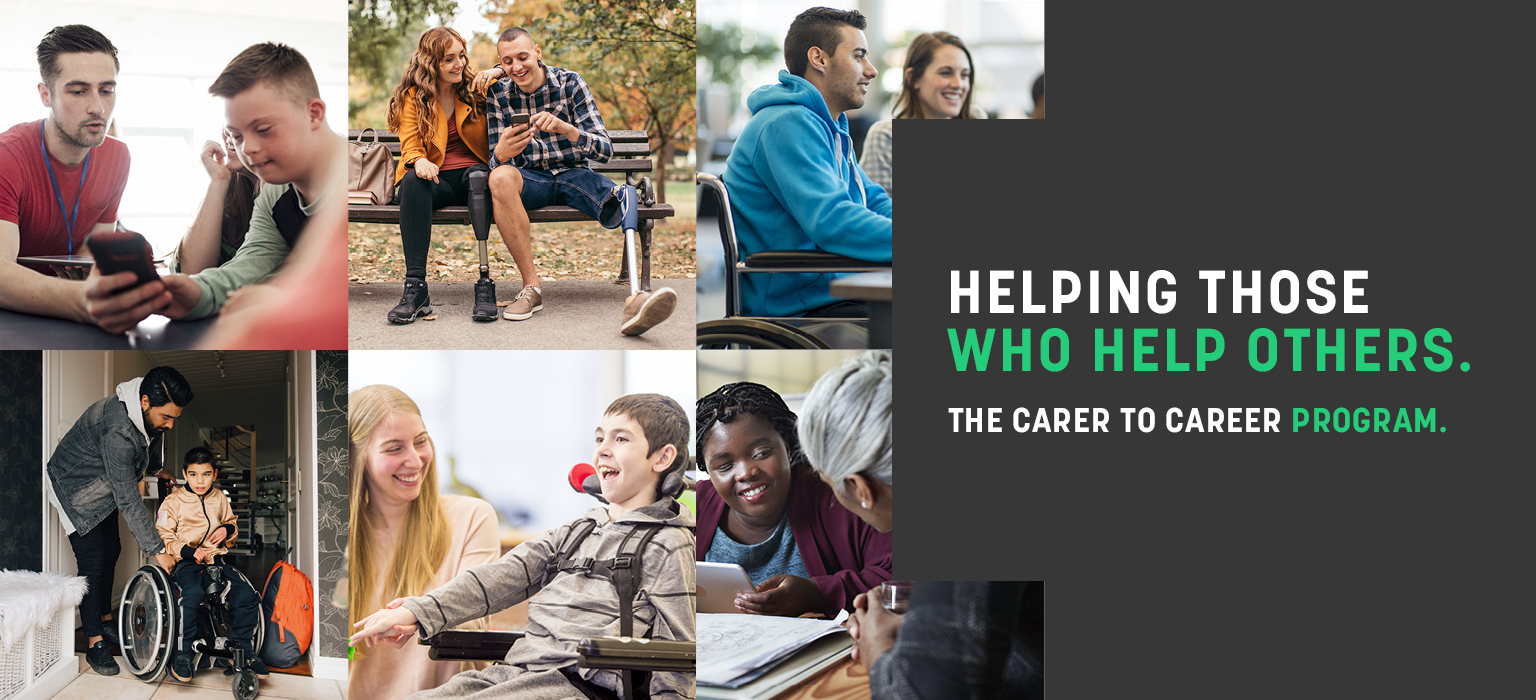 The Carer to Career Program: Helping Those Who Help Others.
You might be caring for a child, a parent, a partner, a friend, or even a neighbour. But regardless of who you care for, having to divide your time between caring, study, and/or work can be incredibly challenging.
To help you balance your time and energy between connecting with others, gaining experience, studying, and working, TAFE NSW has developed the Carer to Career program.
The Carer to Career program aims to assist carers in not only determining your goals, but also in helping you to successfully reach them.
Through our partnerships, TAFE NSW has a range of available pathways tailored to those in a carer role. For more information on how we can assist you in setting and achieving your career goals, please fill out our enquiry form below, so a TAFE NSW team member can reach out to you.
What is Carer to Career?
Carer to Career is a different pathway into qualifications that lead to employment. It starts with a process to recognise your skills and learning gained through your Carer experiences. In certain qualifications this could reduce the time you spend in study so you could finish your qualification sooner. For other qualifications it means that your Carer responsibilities will be recognised and your study and assessment requirements will be adjusted to better support your Carer role.
Is this pathway suitable for me?
If you are supporting and caring for a family member, friend or neighbour this is the right pathway for you. The person you are caring for might be ageing, experiencing mental health conditions, chronic health conditions or be a person with disability, Your Carer role could be unpaid or paid (e.g. Carers payment, Foster Carer).
How much does this cost?
Qualification costs differ based on individual circumstances. Please use the following link to assist you with determining this https://www.tafensw.edu.au/fees
How long will it take me?
The initial recognition process involves recording your Care Story and collecting information about your Carer role. Then you may be in a position to complete more recognition against other Units in your qualification, or you might start classroom learning or online learning.
My Caring role is hard enough, why would I want to work in support as well?
Well you might not. TAFE NSW has over 1200 courses from diplomas and degrees to short courses that you can choose from. Our Career Counsellors will work with you to assist you to select a qualification that fits your interests.
It is also important to consider that not all support work and roles are the same as your caring role. You might have an interest in gardening for example, and find yourself supporting someone to learn to maintain their garden or practice skills to gain employment in the horticulture industry. You might never get to the theatre anymore because of your caring role, but could gain employment supporting someone to go to the theatre. You might have so much experience to share you become an educator yourself!